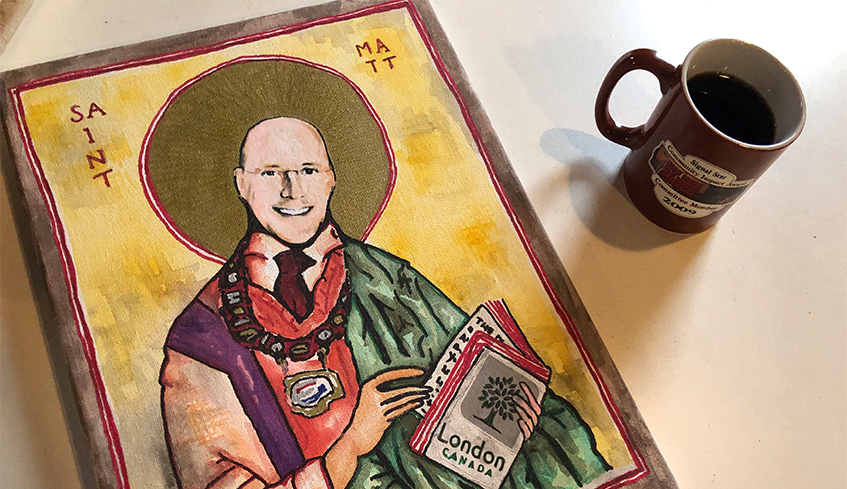 By Whitney South, Best of London. 12.14.18
Irish poet and playwright Oscar Wilde once said; bad art is a great deal worse than no art at all.
But for the crew at LondonFuse, nothing could be further from the truth.
Just in time for the holidays, the arts and culture publication is once again inviting the public to their Bad Art Festivus, taking over the Forest City Gallery Friday, Dec. 21.
The idea? A feast for the eyes, featuring the very best of the worst art London has to offer — for one night only.
According to LondonFuse Program Director Gerard Creces, what makes the event special is simple — it's strange, and it's different.
"Everybody likes parody, and in a stuffy world like art, having parody is paramount," he explained. "For the artists, it's a fun chance to poke fun at yourself — all those things you've obviously been keeping for a very good reason; you know you hate it, but there's some kind of connection to a special point in time."
Really, it's all about putting themselves out there, and having a laugh.
The artwork has been submitted by anyone who wants to take part, and comes in many forms, including painting, sculpture, photography, printmaking, and live performances throughout the night, including an "airing of grievances" portion.
"It's really something that's captivated young and old alike. People have been babying this work, waiting for the right time to show it off, I guess," said Creces. "So often when they bring the work in, it's obvious they didn't like it, but loved the idea of having it."
The idea for the event was born back in 2016, when Vanessa Brown and Jason Dickson (the duo behind Brown & Dickson Booksellers) were inspired by a literary tradition in London where local writers would host evenings for sharing truly terrible work with their peers, in the safety of their own home.
Along with LondonFuse, the pair held the first offering in the back of their shop, showcasing a variety of art — everything from a horse-headed last supper to dinosaurs in space, childhood scribbles to the popular stuffed rabbit with human teeth, complete with hot pink frame.
And much like this year, the submissions were plentiful.
For 2018, organizers have taken the show to the next level, hosting the festivities in an actual gallery for the first time.
"In the past we've had artists bring in their whole family to see their work on the wall . . . so it really does give the everyday person the opportunity to feel represented in London's arts community, and the gallery setting just adds to that," added Executive Director Nicole Borland. "Fact is, whether they truly hate the work or not, there's some kind of sinister pride in things they've created . . . even after when you realize they're horrible."
As with any art show, select pieces will be for public sale, provided the artist can bear to let it go.
In addition, visitors are invited to stretch their own artistic muscle at the crappy collage and cardmaking table or step into the photo booth to show off their status as a "patron of wonderful garbage."
A cash bar will also be on-hand.
"Bad has probably as many different definitions as art does in general," said Borland. "Sometimes bad means kitschy, in most cases it's just weird. Visitors will really be surprised at the quality and quantity of the work. Really, beauty is in the eye of the beholder, and that's just it in a nutshell."
LondonFuse's Bad Art Festivus hits the Forest City Gallery (258 Richmond St.) on Friday, Dec. 21.
Entry is a suggested donation of $10, with proceeds going to help fund operations at LondonFuse, a culture publication and digital media skills training program based in London.
To check out their work, visit www.londonfuse.ca.
Photo by: Whitney South