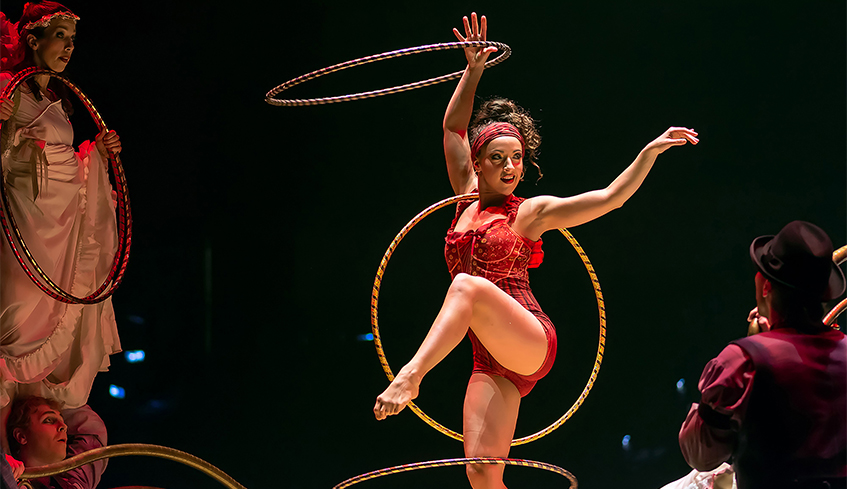 By Whitney South, Best of London. 06.14.19
Imagine a joyous procession and a festive parade — all brought to life by a clown.
Plunging audiences into a world of fun, comedy and spontaneity found in the mysterious space between heaven and earth, Cirque Du Soleil's Corteo is said to bring together the passion of the actor with the grace and power of the acrobat.
And its that very combination which has continued to draw thousands of fans to the show since it first premiered in Montreal back in 2005. While its final performance under the Big Top took place in Quito, Ecuador a decade later, the production was re-mounted as an arena tour in 2017 much to the delight of Cirque fans everywhere.
This weekend, London will get its chance to take in the much-loved spectacle as Corteo hits Budweiser Gardens with six performances spanning June 13-16.
For chandelier and hula hoop performer Santé D'Amours Fortunato, this tour is the culmination of dream years in the making. Growing up in Vancouver, the young artist immersed herself in dance and rhythmic gymnastics before a trip to a performance of Cirque's Alegria set her on a whole new path.
"Cirque Du Soleil was the only circus I ever saw growing up . . . and from that moment on, that was it," she explained with a laugh. "At first I had no idea how to go about it until I saw there was a circus college in Montreal. I tried out, got in, and have been working around the world ever since."
Fortunato graduated in 2011 from the National Circus School, majoring in hula hoop and minoring in contortion and aerial hoop. That same year she moved to Italy and worked on a cruise ship performing her solo hoops act, has been featured in several TV shows and continues to perform in over 15 countries, including China, Slovenia, England, Spain, and South Africa.
In Corteo — based on the Italian word meaning cortège or procession — a clown watches his own funeral taking place in a carnival-like atmosphere, which has been a said to be partly inspired by The Grand Parade: Portrait of the Artist as Clown on display at the National Gallery of Canada and the movie I Clowns by Federico Fellini.
Throughout the story Fortunato takes on the role of one of the clown's past loves, showcasing in both an aerial chandelier number with two other cast members, and a solo hoop act.
And while this is her first time touring with Cirque, the performer said she's more than excited to be part of such a poetic show with such timeless characters.
"I think what makes Cirque de Soleil special is a combination of so many things. From the different disciplines to our make-up, so much work is put into everything," she explained. "Yes, we're athletes, but we also have acting classes — we focus on movements and tricks, as well as the emotion and detail of every story experience. That's what really sets it apart."
Cirque Du Soleil's Corteo takes over Budweiser Gardens for six shows from June 13-16, including matinees on Saturday and Sunday.
For more information, or for tickets, visit www.budweisergardens.com.